21.07.2014 - UPDATES
AN AFFAIR WITH ITALY TRAVEL DIRECTORY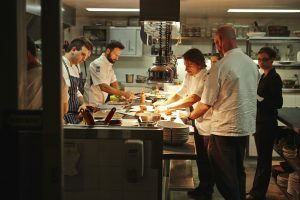 Cerrone had the pleasure of spending an evening with Emma Scott and Julie Adams, the duo behind www.anaffairwithitaly.com as they collaborated with CIRA (Council of Italian restaurants in Australia) to launch the 'An Affair with Italy Travel Directory'.
An Affair with Italy, is an on-line magazine capturing inspirational stories from creative people all around the world, revealing their connection to Italy as well as their secret travel tips. The newly launched 'Travel Directory'  houses these invaluable 'travel tips'  in a comprehensive, user friendly directory unveiling the very best in recommendations on where to stay, eat, drink, shop and play anywhere in Italy.
The launch dinner was hosted by acclaimed Sydney restaurant  'Ormeggio at the Spit' and guests were treated to an 'Italian journey' as they enjoyed an exquisite regional Italian feast, created by four of Sydney's most celebrated Italian chefs: Alessandro Pavoni (Ormeggio at the Spit), Giovanni Pilu (Pilu at Freshwater), Sandro di Marino (A Tavola) and Gabriele Taddeucci (Balla).
Cerrone proudly supports 'An Affair with Italy' and the new Travel Directory. Become a fan and stay tuned for Nic's Cerrone's travel tips on the Abruzzo region.