03.12.2014 - UPDATES
CERRONE WELCOMES ITALIAN PRIME MINISTER TO AUSTRALIA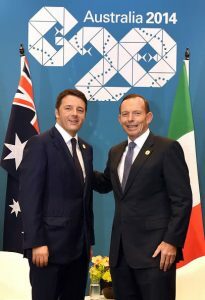 The G20 Summit held in Brisbane in November 2014 welcomed for the first time in history, the Italian Prime Minister Matteo Renzi to Australia.
In celebration of his short visit, the Italian community held a dinner at the prestigious Doltone House overlooking Sydney Harbour.
In his speech during the dinner, Renzi focused on Italian immigration and its key role in shaping the social and cultural fabric of Australia.
In honor of the visit Nicola Cerrone who represented the manufacturing excellence Made in Italy to Sydney, had the pleasure of creating a gift for the Prime Minister and his wife, Agnes Landini, on behalf of the entire Italian community.
Nicola Cerrone is a known example of Italians who immigrated to Australia in search of a better life and through hard work and passion, he managed to make his way and emerge as a country icon. Cerrone is able to combine his inborn aesthetic, sensitivity and originality with the culture and tradition of Italian jewellery
Artist and jewellery designer, Cerrone and is known worldwide for its incredible attention to detail, the uniqueness of the design and aesthetics of his precious creations.
Source: ICCI (Italian Chamber of Commerce and Indurstry)