18.08.2014 - UPDATES
Estée Lauder and Cerrone celebrate the launch of Re-Nutriv Ultimate Diamond Dual Infusion Serum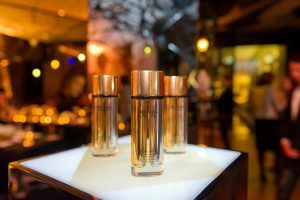 On Tuesday 12th August, Estée Lauder held a launch event for members of the media and friends of the brand to celebrate the launch of Re-Nutriv Ultimate Diamond Dual Infusion Serum.  Guests were treated to a cocktail reception and presentation, followed by a formal dinner.  The event was held at Bentley Bar & Restaurant in Sydney's CBD, where Head Chef Brent Savage prepared an exclusive 3 course menu that showcased Black Truffles, the key ingredient in the new Re-Nutriv Serum.
Re-Nutriv Ultimate Diamond Dual Infusion Serum combines Black Diamond Truffle Extract, along with Advanced Lifting Technologies to sculpt and refinish the skin for a visibly younger, more even-toned look. The Black Diamond Truffle Extract is patented exclusively to Estée Lauder and utilizes truffles harvested in the South West of France.
Re-Nutriv is the luxury skincare line for the Estée Lauder brand and given the exclusive positioning of the product, the brand was fortunate to partner with luxury jewelers Cerrone for the evening.  VIP guests, including Kyly Clarke, Terry Biviano and Abby Earl, wore Cerrone jewels at the event and shone brightly all evening.
Estée Lauder Re-Nutriv Ultimate Diamond Dual Infusion Serum will be available at selected Estée Lauder counters on the 2nd of November.