23.06.2014 - UPDATES
EXPERTS IN DIAMOND SELECTION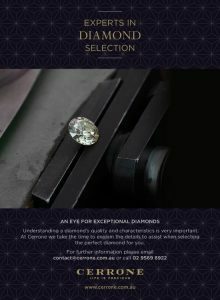 Understanding a diamonds characteristics and qualities is very important when making that special purchase.
A method called the '4cs' has been developed to explain the grading system of diamonds – Cut, Colour, Clarity and Carat Weight>
If not explained properly, you could be investing unnecessarily. With over 40 year's experience in the industry, Nicola Cerrone is sharing his tips in order of importance.>
– The cut and colour grade are the most important features to look at when purchasing a diamond.
– The last thing you want is to look down at your diamond and see black spots.  Clarity, which refers to the visibility of blemishes in the diamond should be SI1+ and above
– The round brilliant cut is the most sort after shape of diamond due to its cut and the way it allows the light to shine through, However because of this you will pay a premium.  Be adventurous and different and look at fancy shape diamonds.  They are good value and allows you to be unique.
Above all, do your research but trust your consultant.  As long as you are attracted to the diamond and you love it that is all that matters.
To arrange an appointment with a Cerrone consultant please email contact@cerrone.com.au