01.10.2015 - UPDATES
The Cerrone Jewellery & Diamond Concierge Service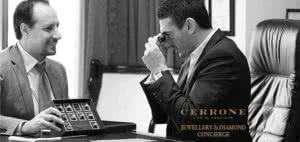 Time is luxury!
The Cerrone Jewellery & Diamond Concierge Service allows you to be visited by our jewellery specialist in the comfort of your own home or office.
This service is designed to fit the schedule of busy professionals and for those who truly value their privacy.
Booking an appointment with our Jewellery and Diamond concierge, ensures the utmost attention, efficiency and comfort in developing the handcrafted jewel of your choice.
Our Jewellery & Diamond concierge will assist in the selection of gemstones, design of the jewel to fit your lifestyle, and advise the different options available in creating your precious jewel.
From diamond engagement rings, our specialty, to tennis bracelets, milestone and anniversary gifts, the concierge can assist at the place and time of your convenience.
This is a complimentary service, to book an appointment email concierge@cerrone.com.au, in store, or call 02 9569 8922 Please speak with our concierge regarding corporate and colleague gifting in your workplace.
We look forward to making your jewellery experience exclusive and unique as you are!