Bespoke Engagement Rings
Our bespoke engagement rings are created with you, from a sketch and selecting the perfect diamond through to the final ring. All rings are custom made and are manufactured in-house at our workshop in Sydney – Australia's largest handmade jewellery atelier.
Apart from our award-winning service and designs, we also offer a complimentary clean and polish annually, to ensure your ring retains its shine, symmetry and sparkle over the course of its lifetime.
Prices for our bespoke engagement rings vary vastly depending on the quality of diamond(s) you choose and the complexity of the design. Housing our own workshop as well as a worldwide inventory of GIA and other laboratory certified diamonds, enables us to tailor any ring to accommodate the clients requirements. You are not limited to the range on our website.
Cerrone draws on the beauty of each diamond in creating pieces that honor moments worth remembering. Our range is the result of perfection, precision and vision; our obsession with the past and future of design and craftsmanship ever present. We welcome you to arrange a complementary private consultation to view our range of exclusive diamonds and find one that truly catches your eye.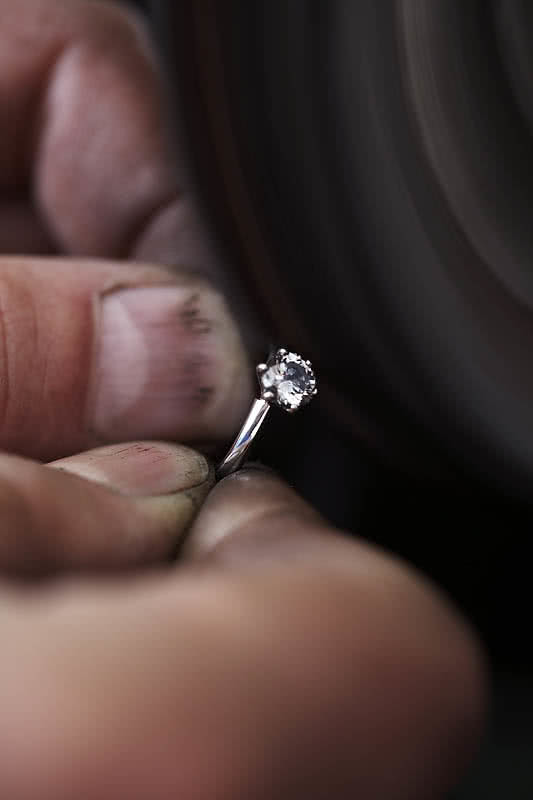 Nicola Cerrone Signature Collection
Culminating over 47 years in business, Nicola Cerrone has built his reputation as being the most awarded jewellery designer in Australia.
From his humble beginnings at the bench, Nic is a trained jeweller by trade and now mentors his orchestra of artisans from apprentice diamond setters and CAD designers to experienced jewellers and polishers.
Having won the De Beers Diamonds International Award for jewellery design, dubbed the "Oscars of the jewellery industry", Nic is now showcasing his signature design style with an exclusive engagement ring collection.
Crafted in the Cerrone workshop, the largest handmade jewellery workshop in Australia, The Nicola Cerrone Signature Engagement Ring Collection features unique style with a twist on modern design with impeccable craftsmanship while using the highest quality diamonds.
"When I am designing a piece of jewellery for someone, it is definitely a collaboratively effort. I do not think about what I like, I draw inspiration from my clients, always ensuring every piece is unique and different. – NICOLA CERRONE
Follow the Cerrone Engagement Ring Journey
"The Four C's" is a term commonly used when discussing diamonds and it refers to the four most important attributes of a diamond – Carat Weight, Colour, Clarity and Cut.
Carat Weight
The international unit of weight measurement used for diamonds.
Colour
A diamond's absence of tint colour is graded on a scale from D (Colourless) to Z (Tinted colour). Colourless diamonds (D – F) will reflect more natural light colour and are considered more valuable.
Clarity
Diamonds can contain external or internal imperfections known as blemishes and inclusions. Clarity is evaluated on the degree of which these imperfections are visible. Diamond imperfections are often difficult to see with the naked eye, however significant imperfections may affect brilliance.
Cut
The cut grade is considered the most important factor of a diamond's beauty and brilliance. A diamond's cut will affect how it handles light as it reflects and refracts to the eye. The diamond shape comes down to preference.
Traditionally the round brilliant is the most sort after cut of diamond due to its and shape and number of facets.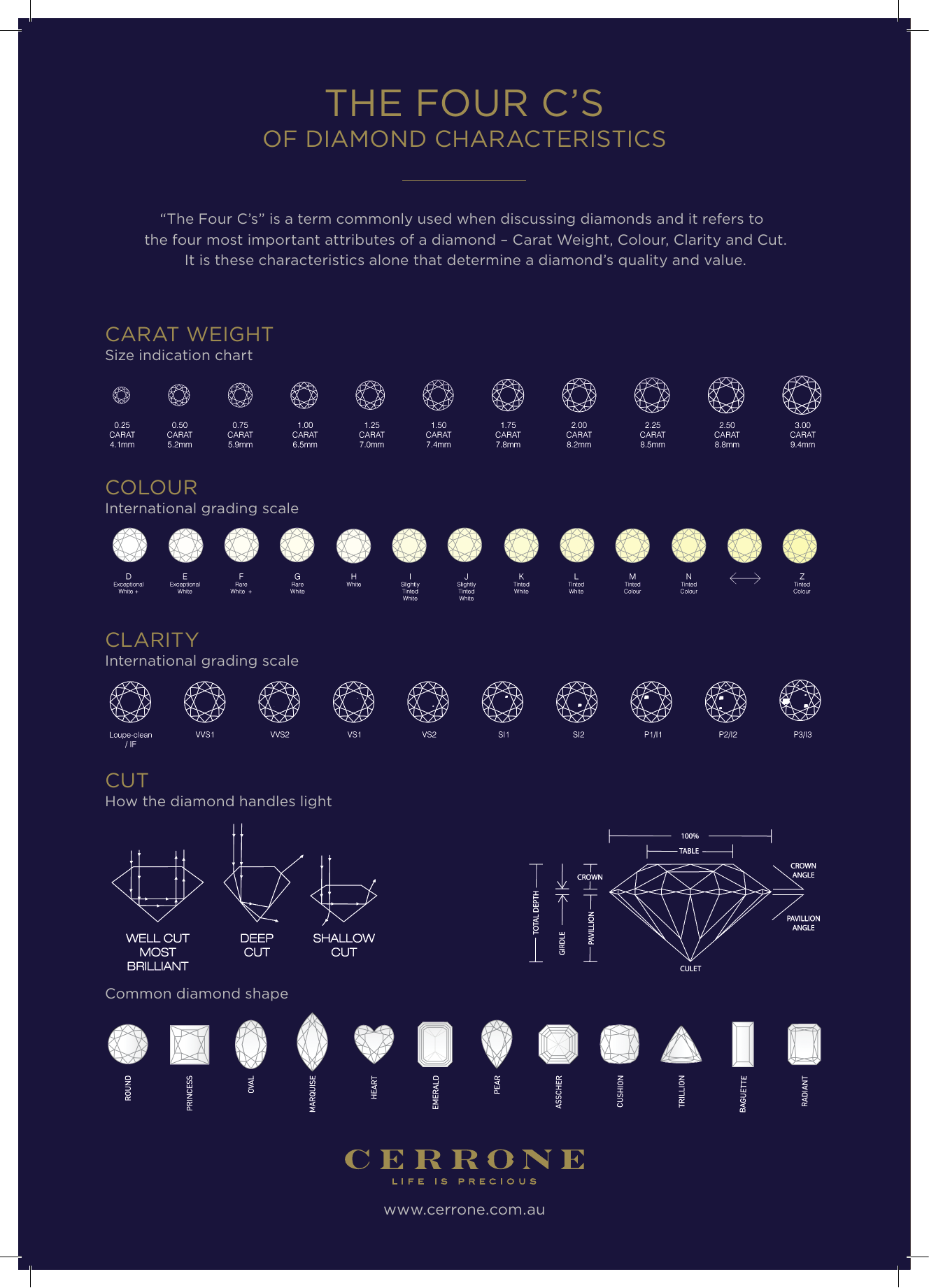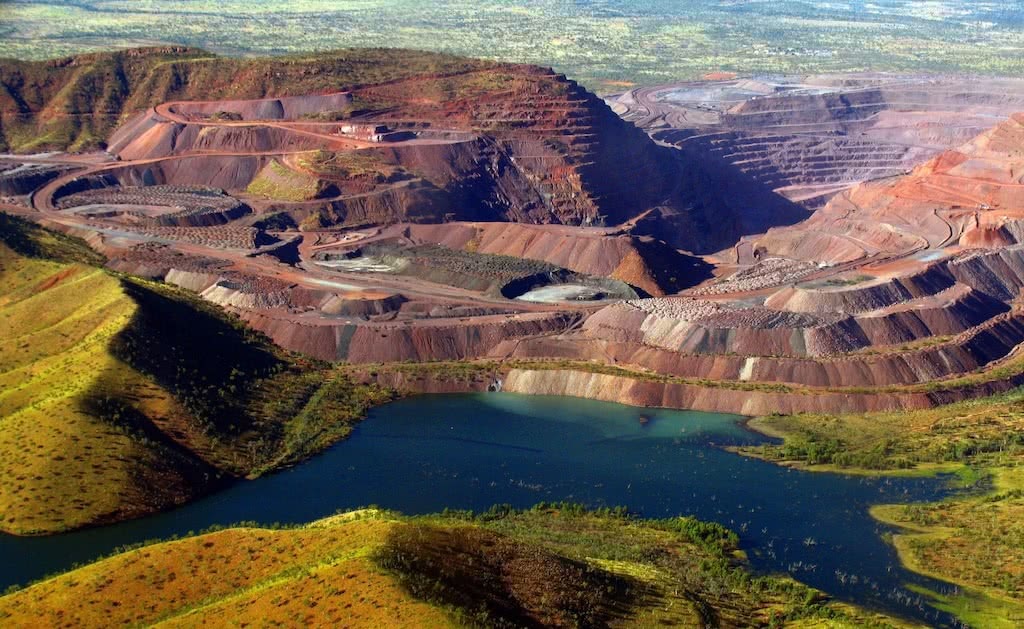 Diamonds we present to our clients have been purchased from legitimate sources not involved in funding conflict and in compliance with the United nations resolutions. Cerrone guarentees that these diamonds are conflict free, based on personal knowledge and/or written guarentees provided by the supplier of these diamonds. Our diamonds have been verified to be exclusively of natural origin and free from any treatment.
Image: Argyle Diamond Mine, East Kimberley Western Australia
ALL RINGS ARE CUSTOM MADE AND MANUFACTURED IN HOUSE IN AUSTRALIA.