Colour
A diamond's absence of tint colour is graded on a scale from D (Colourless) to Z (Tinted colour). Colourless diamonds (D - F) will reflect more natural light colour and are considered more valuable.
International grading





H
White








Clarity
Diamonds can contain external or internal imperfections known as blemishes and inclusions. Clarity is evaluated on the degree of which these imperfections are visible. Diamond imperfections are often difficult to see with the naked eye, however significant imperfections may affect brilliance.
International grading

Loupe-clean/ IF

VVS1

VVS2

VS1

VS2

SI1

SI2

P1/I1

P1/I2

P3/I3
Cut
The cut grade is considered the most important factor of a diamond's beauty and brilliance. A diamond's cut will affect how it handles light as it reflects and refracts to the eye. The diamond shape comes down to preference.
Common diamond shapes

Round

Princess

Oval

Marquise

Heart

Emerald

Pear

Asscher

Cushion

Trillion

Baguette

Radiant
How the diamond handles light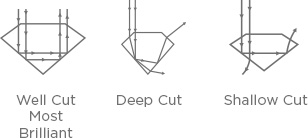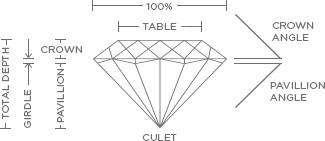 Carat weight
The international unit of weight measurement used for diamonds.
Size indication chart

0.25 CARAT 4.1mm

0.50 CARAT 5.2mm

0.75 CARAT 5.9mm

1.00 CARAT 6.5mm

1.25 CARAT 7.0mm

1.50 CARAT 7.4mm

1.75 CARAT 7.8mm

2.00 CARAT 8.2mm

2.25 CARAT 8.5mm

2.50 CARAT 8.8mm

3.00 CARAT 9.4mm