22.04.2021 - UPDATES
HOW TO CHOOSE AN ENGAGEMENT RING IN 4 EASY STEPS
Choosing an engagement ring might not come easy to some and finding the perfect one can be a real challenge. An engagement ring is the ultimate symbol of love and commitment that will be treasured forever. Often there is immense pressure on a significant other to 'get it right' when it comes to picking out the perfect ring. Choosing the right jeweller for your engagement ring is crucial as they can guide you every step of the way.
ONCE YOU HAVE CHOSEN THE RIGHT JEWELLER, HERE ARE THE FOUR STEPS FOR THE PERFECT ENGAGEMENT RING.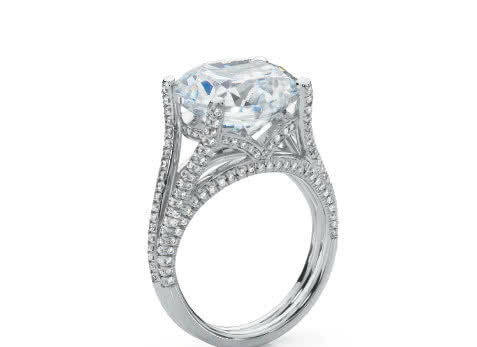 ESTABLISH YOUR BUDGET
The first thing you need to do is establish your budget. Set a price range before you walk into a jewellery store. This will help your jeweller to show you options that fit within your budget. There is a tradition that a man should spend one to three month's salary for an engagement ring, but feel free to break the tradition!
In addition to establishing a budget, you should also consider your partner's lifestyle and preferences. If they're active or sporty, a huge diamond engagement ring might not be practical. Some people might also want a subtle ring instead of a flashy one with a big stone. Whatever your partner likes, it's good to set guidelines that will make your loved ones happy but won't blow a hole in your wallet.
FIND OUT HER RING SIZE
For some, this should be a no-brainer, but a lot of people can get this wrong. It doesn't matter whether you have the most gorgeous ring picked out. If you get the wrong size, all of that searching for the perfect ring would have been for nothing.
Although you can always return the ring and have it adjusted later, this might incur additional cost and time. So be creative, there are tips online on how to discreetly find out your partner's ring size. If you can't get the size yourself, ask one of a friend or family to find it out for you. You can also ask one of our expert jewellers for some tips and tricks on how to choose an engagement ring size.
KNOW THE FOUR C'S
Bear with us because this might be the most important step in your process of choosing an engagement ring. When it comes to buying an engagement ring, there are four C's—carat, clarity, colour, and cut—that should demand your attention. Familiarising yourself with these factors will make the process of finding the perfect diamond engagement ring a breeze.
The stone is usually the most expensive part of the ring and you cannot just splurge on one stone that you don't understand. Get to know the four C's to find out what's the best stone for your love. Carat refers to the mass of the stone and clarity shows you the stone's imperfections or fineness.
Stones or diamonds have different colours, make sure you know what your partner prefers. Typically, the colours of an engagement ring are white gold, rose gold, and platinum. In the future, you can also match your wedding rings and bands to your partner's engagement ring style and colour.
Lastly, the cut will determine the sparkle of the diamond when it reflects light from one facet to another. There are 10 ring styles that are common for an engagement ring: Round, Pear, princess, marquise, cushion, emerald, oval, radiant, heart, and Asscher. Princess cut, Radiant cut, Emerald cut, Cushion cut, and Asscher cut are more rectangular while Pear cut, Oval cut, Marquise cut, and Round cut have smoother edges.
MAKE IT A SURPRISE
Buying an engagement ring is just the first step to forever and now it's time for you to be creative and show them how loved your partner is. This is a once-in-a-lifetime moment that they will treasure forever – make the moment special and above all, romantic. You can go on the traditional route and propose over a candlelit dinner or do a spontaneous activity that will really leave your partner speechless. No matter how you do it, make sure to highlight how grateful you are for them.
We are excited for you and we wish you all the best! If in any case you still can't find the perfect engagement ring, maybe a bespoke ring will end your search. Reach out to us and we will gladly co-create the most stunning and gorgeous engagement ring for your future spouse based on their personal style and preferences. We have a wide collection of stones and gems in various styles and colours so whatever your beloved one's cup of tea is, we have you covered.